30-YEAR OLD AND A MICHELIN STAR: DANIELE LIPPI TELLS HIS STORY
During the interview, we went on first-name terms because Daniele Lippi is a nonconformist and a peer (he was born in 1990, the writer in 1986).
But Lippi is also a starred chef, and when we talk about excellence, we have to be formal, even when he is young and "anti".
And then, the bon ton of the interview. So yes, the chat was cleared of friendly or slang phrases,.
Why do we need to clarify this aspect? Because Lippi is particularly empathic.
To be clear, Lippi is capable of using a proletarian tone and bourgeois terms; he says "Weltanschauung" but tones down it with "philosophizing"; he specifies that he has received "complaints" and not "feedbacks", but respects only those chefs with "manico alla padella" (we are going to explain later the meaning of this expression).
In short, Lippi does not pretend and is really cool if asked to open up. He is confident and knows where he comes from, how much is worth, and what has learned, so he also knows where he wants to go.
When he is serious and talks about his cooking, the diction is excellent; when he refers to aspects that he doesn't really like (the behavior of young people, the cliches around the role of the chef), a touch of acid Roman dialect emerges.
The result is a complex, multifaceted character, capable of relating to anyone. It is a major gift for a communicator as much as for a chef, whose dialectic is bilateral: it relates to the raw material and the guest.
Or, as Lippi himself says, he relates to the guest through the raw material, in a process in which his ego takes a step back. A rare talent in the latest generation of chefs.
Daniele Lippi, is it true that you wanted to become a computer engineer?
«After the State Industrial Technical Institute, I decided to study computer science. I chose it because ten years ago it was very popular, but I had no incentives. Fortunately, I understood it immediately and changed my path».
You chose the kitchen.
«Yes, the kitchen. Already as a teenager, before the technical school, I was undecided between that or the hotel school. After all, my relationship with the cuisine was already born in the family. To be clear: having Umbrian traditions, my mother was not a fan of frozen or pre-cooked food. At home, we ate the pigeon, the rabbit. In short, this is my culinary identity, but I am only aware of its importance today, in retrospect ».
And the first experiments in the kitchen?
«The usual ones, those with friends. Carbonara, garlic and oil, the ciambellone (sponge cake). I thought I was good, and then I enrolled in the Gambero Rosso Academy. From there, I went to the Convivio of Angelo Troiani. For ten years, I worked with them, and I went from commis to sous chef and lastly, for four years, head chef ».
At some point, you decided to "cut the umbilical cord," as you said.
«Yes, I chose to travel and get to know other realities (all starred ones such as Piazza Duomo, Pavillon Ledoyen, Alinea, Lasarte, ed), I wanted to make mistakes and create on my own, take credits and hassles. In the end, I received the proposal from Andrea la Caita and Benito Cascone, and I landed in Acquolina in June 2019 ».
Do you remember the first time you entered a starred restaurant as a customer? Was it Vissan, right?
«Yes, and I immediately felt the air of the great maison. The cuisine is typical Umbrian cuisine with small oriental influences. I remember a tomato and basil unstructured and creamed with tomato water and Parmesan mousse … in short, Vissani was a great visionary ».
Then, a year ago, Acquolina and Acquaroof – Terrazza Molinari of The First Roma Arte. How was the impact?
«At the beginning, traumatic. After leaving the Convivio, my comfort zone, I found myself in a reality open 24 hours a day, where there was a need to change the card and give my identity to the restaurant».
We are going to get there. First, tell me how Daniele Lippi is, temperamentally and with his colleagues.
«Here at Acquolina and Acquaroof, we are all very young, between 24 and 19 years old. I just try to be myself. I avoid stereotypes, the same ones that are imposed when you are in a certain position and there are hierarchies to be respected. So I am not one of those chefs who focus on the ironed jacket and black sock. I am rigid only on certain aspects, such as cleaning, or when it is necessary. Much comes from the experience at the Convivio, where I learned that the kitchen lives on something else, with great gestures and deep respect for the raw material».
Do you think that the media has contributed to building this image of the macho chef, who speaks loud offends and gets hysterical by pulling the dishes?
«I believe that an overly patinated trend has emerged around the world of cooking. A romantic idea of ​​cooking that does not correspond to reality has been spread. In those contexts, you don't fell how much hard work and how much apprenticeship is needed. You notice it when young people enter a real kitchen: they are pretentious, they have seen Masterchef, and feel like chefs, control their working hours, they immediately ask for important salaries. I assure you that it is not the usual speech of a very conservative person: ten years ago, it was not like that.»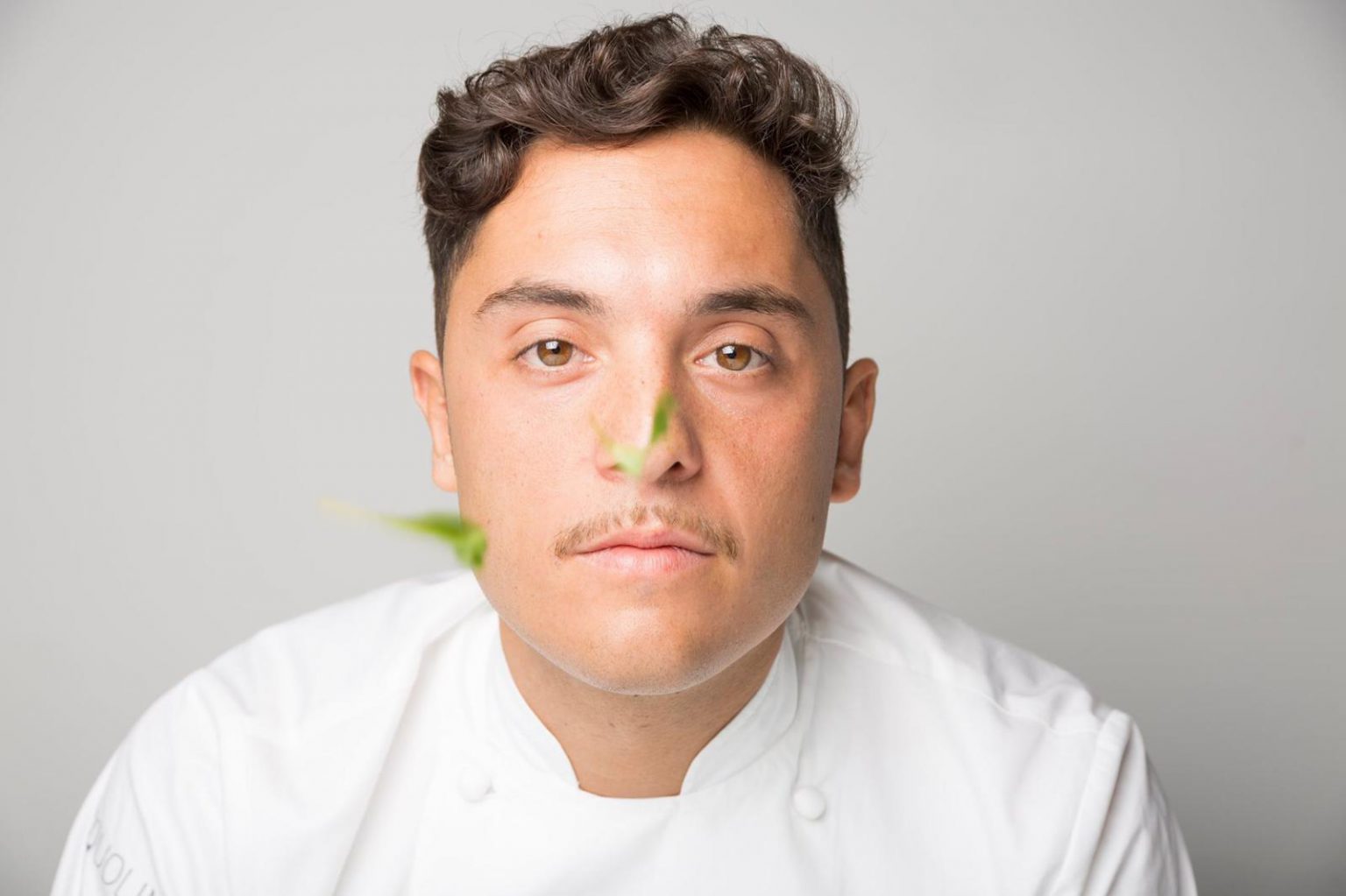 What is the difference between Acquolina and Acquaroof's cuisine?
«With Acquolina and Acquaroof, I can express myself on two levels. Acquolina requires a more careful, meticulous, technically cured cuisine. Acquaroof is literally a bistro, in which the preparations are closer to those of our home and where you can taste a sauté of cannollicchi or spaghetti. Acquolina recalls old recipes, from great-grandparents, with cooking in ceramic flasks or homemade fermented. The same idea of ​​cooking binds them together, my idea, which I would define as a new Mediterranean cuisine ».
What are the characteristics of your cuisine?
«As five years ago there was a boom in Nordic cuisine, and then the molecular cuisine, now we young people try to put our background of experience and technique at the service of cuisine that looks to the past to take a run for the future. It is a brutal cuisine, made of fire and "manico alla padella," gestures, old-time recipes proposed with preciousness by modern Weltanschauung.»
"Manico alla padella" is your own expression, which you often use. Can you explain what it means?
«Manico alla padella is what makes you understand when a cook knows how to cook.»
Really?
«Absolutely. Especially an Italian cook. In the kitchen, you need substance, and then you learn the technicalities. First, you have to train your palate and your hand, you have to learn how to dose salt, fat, acidity … and this can only be done in front of the stove. This is what Angelo Troiani taught me: I didn't grow up in foam and spheres».
Is this what differentiates your cuisine from that of other starred ones?
«Yes. I'm interested in the substance. The cuisine must be fun, and then you can philosophize a little, that is, develop dishes based on original ideas. But it would be a huge mistake to forget that culinary art focuses on the product. My cuisine is made for raw materials and not an exercise in style that enhances the ego. Cooking with respect for the raw material is cooking with respect for the guest ».
People say that you are having a lot of fun in this post Covid period, as you only dedicate to Acquaroof.
«Now Acquolina is closed and will reopen shortly after the summer. So yes, I'm having fun. I am finding the taste of breaking down stereotypes again. And then to prepare spaghetti with cockles, fillet the fish, go to the auction to choose it. Certain preparations distract your eye; you lose sight of the product you work: at Acquaroof, we offer what the sea offered that day. Let's get out of the standardization perspective and free ourselves a bit. Those who visit Acquaroof – Terrazza Molinari know that they can enjoy a good dish and a glass of wine on the most beautiful terrace in Rome ».
And how does this spirit translate for Acquolina?
«Acquolina is a look back at the old kitchen of our grandparents. I am not referring to cannelloni or lasagna: we turn to forgotten dishes. For example, pasta with figs, unripe figs that we let ferment and accompany with garlic and oil. There is more research (from Apicius to Carnacina) than technique».
A technique that obviously exists. Are you studying fermentation a lot?
«Fermentation is nothing new. We live in the midst of the fermented products, but we don't know or notice it. Butter, cheeses, salami, anchovy sauce: they are all fermented. Molds and yeasts are the ones that give us the bread ».
You took over Alessandro Narducci, who tragically passed away in 2018. What personal and culinary memory do you have of him?
«We were like brothers. We were characteristically antipodes. He was more open, sunny; I am a nerd, more bear. He often told me that we should have opened our own restaurant, but it remained a bit of a dream. His cooking, on the other hand, was more pop, more mischievous ».
And how did you overcome shyness? What is your relationship with customers?
«Obviously, I go out less when I am at the bistro. There the customer wants to enjoy the calmness and does not look for the chef. When I am at Acquolina, I tend to go out every evening. Overall, I metabolize criticism well, filter it, and never find someone who would cut me off or lower my self-esteem. I am also attentive, I read the online review portals, and I must say that they have helped me improve. For example, some time ago, I often received feedback, or rather a complaint on creamed cod, and now I pay more attention to it, so I have solved it ».
How did the idea of ​​your signature plate come about?
«It comes from typical Roman cuisine, from artichoke alla giudia, and then I wanted to turn a tuber into a flower. As always, the best ideas come from necessity: it was spring, and I was about to finish the artichokes I made with sweetbreads and hazelnuts. I had to replace them, and I asked myself which vegetable could do it: Jerusalem artichoke. So I started working on it to make it look like an artichoke ».
Let's close with the Michelin star, which for many, is a clear horizon and goal. How much is it worth to you?
«Very. I am hypercritical towards me: I feel the merit, but I would have liked to earn it and not just work to reconfirm it. Receiving the second one, of course, is one of my goals ».
Commenti
Commenta qui .....
This post is also available in: Italiano (Italian)
Tags :
Chef
Michelin Guide
Nouvelle Cuisine