CHEF MARCO GUBBIOTTI: THE MICHELIN STARS, CUCINAA, HIS CUISINE, THE YOUTH
n an interview turned into a story, the starred chef Marco Gubbiotti talks about himself and his new project, Cucinaa
Entering the website of Cucinaa in Foligno, the face of Marco Gubbiotti does not appear immediately. There is his name, ("Cucinaa – Marco Gubbiotti's gastronomic project) but the face is missing. To see it you must enter the "Team" section. Team and not "The chef." Gubbiotti is not one those who want to be the protagonist.
In the section concerning the Cucinaa's team, finally, you can find him. "Marco Gubbiotti – Chef": nothing more.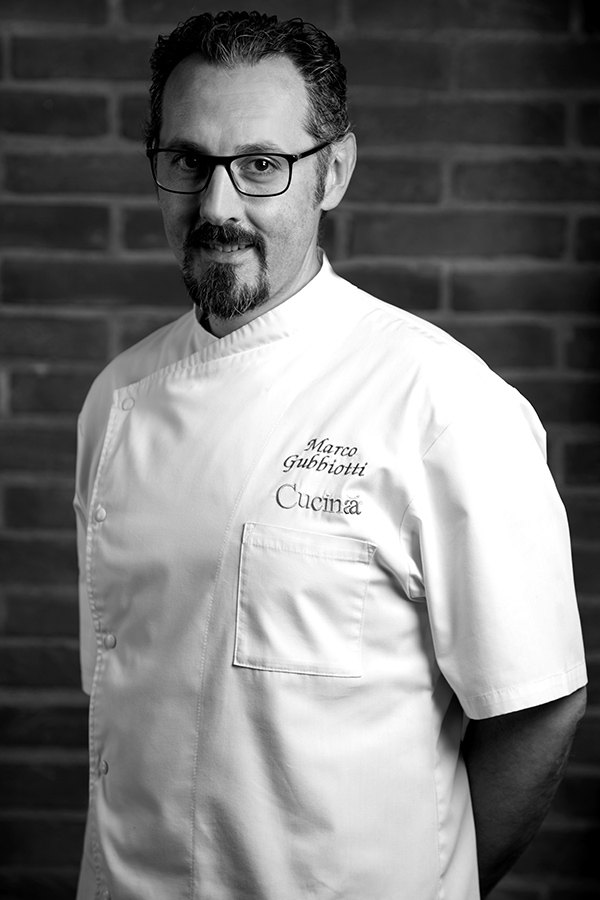 Even writing his name, there isn't much. Very few interviews. He does not care about "the audience," he doesn't have to be "cool." Even the tone of his voice is kind, soft, calm. Initially, Gubbiotti's voice has a syncopated rhythm with which he narrates. And as a narration, a bebop monologue, his history must be read. The story of a chef from Spoleto, who started from the bottom, then received a Michelin star, and returned in Foligno to experiment (in his own way, experimenting with simplicity) with the Cucinaa.
MARCO GUBBIOTTI'S STORY
«My culinary experience is born in Spoleto, among the stoves of my home. My mother was an excellent cook, and I observed her every day cooking. The choice of a hotel management school was random. I owe everything to a brotherly friend, who dragged me with him. I wanted to be a surveyor. After a year, he stopped, and I got passionate. Immediately after the last year of school, I started traveling around Italy and worked on Costa Crociere ships.
But I had the greatest experience in the restaurants in the area, in kitchens where people ran a lot and didn't care much about presentation. I learned to acquire the speed of execution and practical sense.
Gubbiotti meets haute cuisine
The first time I came into contact with something different was with an internship at the Trigabolo of Igles Corelli, and then I worked with Bruno Barbieri and Mauro Gualandi. I saw with them that the kitchen could also be something else. On the other hand, at the time there was no such media presence, and haute cuisine passed only through some newspapers.
I was fascinated. With those masters, I understood that I had to do this type of cuisine to grow, or I would have done something else.
So I started to collaborate in Villa Roncalli to achieve the Michelin Star. It arrived after four years. Immediately after the Bastiglia of Spello called me, they wanted to change the cooking method and the offer.
Gubbiotti's cuisine and the formulation of his gastronomic vocabulary
Meanwhile, I continued to study. I don't know how much time I have spent over the years on books and experimentation. How do you experiment? Throwing a lot. Trying and trying again. In the end, you get something and decide to keep it. The first approach is, sadly, to have guinea pigs, but finally, if the star arrived, it means that something good has been done. Besides books, we also learn a lot with dinners and lunches made with colleagues and in their businesses.
Thus you create a vocabulary of combinations of flavors and raw materials. What is the cuisine for me? Over time it has become simplicity and respect for the raw material. From the dish must emerge a flavor that will be remembered. You don't have to surprise people at all costs, but deliver something to the palate and brain of the customer that fills the drawer of new experiences.
More than adding ingredients as I did 20 years ago, I take them off. The dishes must be as simple as possible. Techniques and ideas remain. The beauty of this work remains, and I'm almost 50, but it still gives new insights and sensations.
The birth of Cucinaa
Does Cucinaa fit into this trend of "removing ingredients"? Yes, but the project is all about food. We wanted to create a place where the loyal customer or just the simple client can have breakfast and dinner, and take our food home. Then, on Friday and Saturday evenings you can eat those dishes we talked about earlier.
Gubbiotti's advice to those who enter a starred restaurant for the first time
People going to an haute cuisine restaurant do not go there to feed themselves. They want to live an experience, to understand how much attention, work, and research there is in a dish or behind that table or that chair, behind the choice of that particular light and why it is positioned in a specific corner of the bathroom. I don't want to exaggerate, but I think I made myself clear. Everything is part of the experience, from the wine list to the most insignificant furniture choices.
The stress of the chef
There is a lot of talk about the stress deriving from a Michelin star. When I say that a dish must be balanced, this balance should also be in the head of the chef. Those people who took their own lives due to stress are not old stories, it is true, and it is a lot. Beyond firmness and genius, to overcome certain loads and such stress firmness and organization are needed.
The youth and the kitchen
What would I recommend to the youth? I would recommend to anyone the path that I did. Starting from the bottom today is not common. Some schools prepare you specifically for haute cuisine. For me, it is as if a wine was ready to drink right away, without aging in the bottle. All the information does not give the real complexity of the so-called starred kitchen. First of all, not everyone can become a great cook. Most of the boys who study in certain schools find themselves in situations where they are forced to accept salaries to do something else, in places that don't care about doing proper things. It is in these places; however, that training begins as it was for me. We must make mistakes to understand it. Knowing the error helps to understand the accuracy.
Sauces, blast chillers, regulations. Freshness is better
The organization and the mise en place are fundamental, but for me, there is an exaggeration in the standardization of some techniques and preparations. Most of the ingredients, today, are stored; that is, everything becomes ready in advance. It's a good thing, but don't overdo it. The chef must recover his role and the right to invent at the moment of the service. It is not about improvisation, but it is a search for freshness. If it is undeniable that the organization in the kitchen is essential as well as the rules imposed to safeguard the health of customers using blast chillers and pasteurization, it is also necessary that a chef learns to compensate for certain contra-indications with a little foresight. What I mean is that many concentrated sauces, even technically perfect, can result heavy at the end of the culinary journey. Distilled or concentrated preparations, in fact, can be part of an apparently perfect and harmonious recipe, but after 11-12 courses of this type, it can happen to feel heavy. The menu, in the end, was indigestible. On the other hand, it is inevitable with concentrations of similar flavors, in which from 20 liters of broth 100 grams of sauce are actually used. So when I talk about freshness, inventiveness, and glance, I refer to this. To the gift that some chefs offer you which is to get up after a complete tasting menu and feel light, almost transparent, perhaps thanks to a carefully chosen raw material that has just been skipped, which has not been prepared in osmosis and then vacuum packed. To do this, in contrast to what one might think, it takes a lot of work.
Consultancy
I have been involved in counseling lately. It is serious, and stress is also present in this area because an entrepreneur gives you the responsibility to improve or change the offer and the menu of their restaurant.
Masters and bad teachers
The role of the teacher is perhaps even worse, although a lot depends on the people you teach. Being the chef within a brigade leads you to set an example, and stress also rises due to the higher precision and attention required to detail or behavior. Pressure depends a lot on the environment. These macho chefs, a bit bastard and a bit screamer, exist and the TV, unfortunately, conveys this type of figure.
On TV, shouting increases the audience. It's cool. But in the kitchen you have to demonstrate your supremacy giving a good example, earning the respect of your colleagues. When you have the respect of your subordinates, because you have earned it, then it is not even necessary to speak. To get a similar relationship, you need charisma and technical-cultural knowledge. More vulgarly, you need brass ones, and you have to earn respect in the field, working shoulder-to-shoulder with your team».
And that's what Gubbiotti is doing in his Cucinaa, where the team and the unity of intent are also transmitted to the media. For preparations and see what they really convey, on the contrary, you need to go to Foligno.
Commenti
Commenta qui .....
This post is also available in: Italiano (Italian)
Tags :
Chef
Food and Wine