STEFANO BRANDI: MY LIFE IN THE KITCHEN
The 2019 summer season begins, and we met Stefano Brandi, a chef who is back to work in provincial hotels after a life in the 5-star hotels around Europe. Here's what he told us
WHO IS STEFANO BRANDI
Stefano Brandi is a local chef. At 8:45 he is already at work, the Capital Hotel in Cupramarittima, where his 2019 season will start.
Stefano, born in Grottammare, came back home 15 years ago, after having lived among the most important kitchens in Europe. Hotel kitchens mostly. And between Switzerland, Germany, Spain, and Italy. He started traveling when he was16: his first stop in Germany, after an experience at home. From there, the first 5-star hotel: the Pitrizza in Porto Cervo.
From 1989 to 2004 the chef Brandi has known the kitchens of a dozen luxury hotels. There are ten 5-star hotels and countless 4-star hotels, including the Savoy in Milan, the Sultan of Brunei's hotel, and the Badrutt's in Saint Moritz, where the most expensive cocktail in history was served, with a 1.2-carat diamond as a garnish. In his resume, however, there are also restaurants like "Il Giannino" in Milan.
Back home to settle down with his girlfriend, Alessia, today he is a father and has stopped wandering from a stove to another. He severed those links that are inevitably created within a kitchen brigade and usually allow people to meet friends-sponsors to collaborate from one hotel to another. The relationship, not the friendships with his masters, still heard through WhatsApp (the maximum of technology that he uses) or on the phone ("What do I do out of the kitchen? A call to a friend or a colleague, jogging, a little of swimming pool »).
3 JUNE, 8.45 AM: BRANDI IN THE KITCHEN
When I arrive at the Capital Hotel, it's 8.45am, and Stefano Brandi does not wear white yet (or, in his case, black). He has just taken a shower, because the scent he is wearing will accompany me throughout the day, without understanding where it came from. The beard is perfectly shaved, the sideburns long and well sharpened. It soon becomes clear that he uses the same self-care in his kitchen. For everything: from the position of a knife to the sauces and preparations in the fridge.
He fights off, however, as soon as he sees me. He tries to safeguard himself: he has many things to do, he was not informed of the meeting, blah blah blah. I don't give up: I was afraid of scheduling another meeting since we are at the beginning of the summer season, and a cook has more time now than in a few weeks.
In the end, he looks at me and gives up (he will then say: «If you were one of those journalists in a suit and tie I wouldn't have talked to you»; jacket and tie? Too much TV …).
So I follow him into the kitchen. We talk there. He put the remains of crustaceans in a big pot, and on the sink, he began to clean and wash the squid.
Over time – two hours of chat – Stefano begins to open up. He works and talks with ease. He says: «I am like that, I am easy-going. I don't like to be in the spotlight, I'm not an Instagram fan. Restaurants have become too social. Fortunately, here we have Marianna (the owner of the Capital, n.d.r.). She took some photos of my dishes. If it were up to me…». And we asked Marianna for the pictures. On Facebook, then, Stefano Brandi, chef, does not exist. No need to look for it.
Stefano Brandi prefers to clean the squid instead, on this Monday in early June, at 8.45 am now 9, with the dining room still half-empty: the season, with a tremendous May like the last, has yet to take off. Every once in a while, he takes a look at the pot. But without worries. Halfway through the conversation, he will say: «It is a matter of time and preparation. Instead of using stock cubes as many do, I prepare this sauce. So I have plenty of time to leave it there to cool down. Then, I chop it … (then he used a technical term incomprehensible for a profane, n.d.r.) and freeze it. Finally, I put them in the freezer with the date. How long will it last? It depends. You can recognize the difference with the stock cubes because they tend to flatten the flavors and make them uniform».
I saw these preparations, and I could smell them. Even for me, an absolutely rude palate, the smell of asparagus and tomato was clean and clear.
THE INTERVIEW
Stefano Brandi cleans and talks, and the suspicious conversation becomes extremely pleasant. In 2 hours we talked about everything. Mainly cooking. And in bulk, as happens with friends. Of course, I start with the experience in the 5-star hotels. How is it working in it? «The idea that people have of 5-star hotels is a little distorted. It is true that in large kitchens we study, but nothing is invented. I saw recipes and cookbooks from the '700 / 800s. The kitchen is simple, 3 ingredients are enough. The important thing is to know how to mix them».
We talk in freedom, and about the role of the cook, he says: «If you don't like taking orders you don't cook. I don't know why and how it is, but I know that humanity has always been like this: there are those who give orders and those who execute them. One of my masters, Silvano Zuccoli, who died two years ago, once tasted my preparation. He asked about the sauce I was preparing. I replied that I thought I had done well by making a specific choice. He merely answered: "You are not paid to think. You are paid to do. The person paid to think is me ". You ended up under the magnifying glass and risked going home for similar stuff».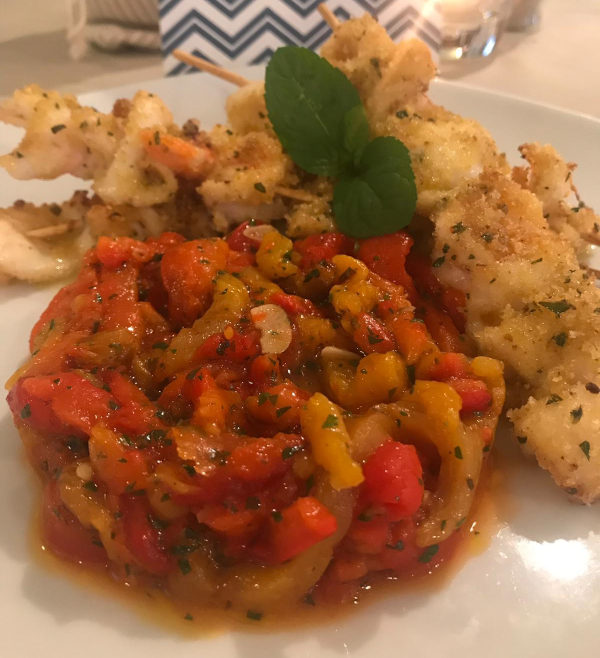 Kids today are different from him, and different from the person that Stefano Brandi was 30 years ago, they have grown up with Masterchef and show cooking: «They come to me for an internship. They arrive and wander. They talk about the "crunchy" supposed to be in the plate because they have heard about it somewhere. They saw it on Master Chef or in one of those academies where they make you believe you know how to cook after asking for a lot of money. To one of those kids, I said: cut those peppers. He asked for the crescent-shaped mincing knife. What?… I sent him back home straight. I asked another to thaw out the spinach. He put them in a colander and placed another bowl underneath. He went to join the first one. Then you call the professors, and they say to you: "You have done well," others instead decide not to send you other students. My wife says I have a temper. But I was taught like that. The hardness was the same. When the chef passed with a spoon to taste a preparation, I was terrified. They could send you away. When I was very young, I had to make breakfast and wake up early. To be clear: just cooking the eggs in the morning. Did you arrive late? 1000 Italian lira less for every minute of delay. Or no day off. But at least there you had the day off … Here in the province, in some places, you can forget it. And always here I happened to have kids who gave a lot of trouble, a fight with their girlfriend was enough, and they decided not to come to work».
Punishments, fines, missed days off, high rhythms. Stressful. Isn't it?: «Stress? It is less than in small restaurants or in provincial hotels. The organization is such that you have no way of thinking, having complications, etc. You have to be fast, that's clear, but there is not that level of stress that some people say».
So first learn how to stay in the kitchen. Then, learn how to cook: «Kids believe that cooking is knowing how to make a dish. Many restaurants, provincial and not only, propose what they used to 30 years ago. The point, however, is that being in the kitchen is not just cooking. We must learn to stay in the kitchen. And to understand that a brigade works like a football team. And then with your colleagues, you lived there, from 4 to 6 months, always together. An affinity was created that helps work. The kitchen is an organism. Large kitchens are divided into lots. There are people dedicated to breakfast, others taking care of the first and the second courses or sauces. Everyone leaves and prepares something for the brigade that is going to prepare the next dishes. Do you have a recipe that includes vol-au-vent? The pastry chefs prepare it for you. Everything is extremely organized. It could not be otherwise: at Villa d'Este we were 45. A disservice is when you have not prepared yourself in time and adequately. It is in the preparation of every single aspect of the dishes that is the secret of the kitchen. Not in creating the dish itself. Cooking is organization, precision, timing. Do you take a colleague's knife? You're creating problems. Just to let you understand: every evening, there is a briefing. Every evening. Kids don't really know what a kitchen is, and they have a distorted vision. They must understand that there are many white jackets: but only a few cooks».
In this, the difference between a large hotel and a small one, perhaps in the province, is enormous. As well as between the kitchen of a hotel and that of a restaurant: «The times and the preparation are completely different. The workflow is not the same because, in the hotel, the client chooses the menu in advance, and the brigades have time to organize themselves. In restaurants, you have a menu. But then, a hotel generally has many more covers. Between a starred restaurant and a 5-star hotel there are variations on the quality of the dishes, but not on products, whose level is still very high».
How are important raw materials and supplies? «The cook should be able to perform at his best because we are chefs and not magicians. As a result, You must have quality products. In the 5-star hotels, they are excellent. And secondly, the tools. Someone now begins to talk about vacuum packing. In large hotels and large restaurants, this method has been used for 25 years or more. In the province, there are still those places where you have to fry with pots and baskets and don't know what a fryer or a kettle is. They ask you to cook well, supplying you with very poor products. In general, I avoid cannelloni and lasagna, because many make them with fourth choice meat, a mix of cheeses, frozen pasta and you don't even know where they took it».
Let's talk about sauces instead, because the general public does not understand its centrality in haute cuisine: «Sauces are essential. Those with tomato sauce and béchamel are basic. Once you have made a good sauce, you have the chance to create others using that background of flavors».
Concerning the job in luxury hotels, job guarantees are also entirely different: «There they give you everything. You have the badge, and you have to clock in. Be careful: you are always expected to work for 15-16 hours. But overtime is paid. You earn well. Here you forget your free days. You have to bring your own uniform. We were provided with 2 uniforms.
For this reason, since I came back, I have been around a bit before finding a serious hotel like the Capital, where you can work with ease and professionalism. A good owner, a serious entrepreneur, should give you the possibility to work at your best. And here with Marianna, I feel great».
Of the quality of food in general, Stefano says: «We are what we eat. The scandals on packaged and industrial foods do not surprise me. And in fact, there are traces of plastic in chicken medallions … Fortunately, attention to quality and healthiness of food has increased. And yet those restaurants serving seafood entree, first and second course for 25 euros continue to thrive. Try yourself: go to the supermarket and buy the same products. Then tell me how much you spent. And that would be the price of the supply, to which an entrepreneur would have to add the cost of the personnel, the utilities, etc.».
But what were his teachers? «Guglielmo Mauri, Silvano Zuccoli, who died recently, and Adelio Sironi. The latter was the chef of many big hotels, the last time we went together to Spain. He asked me to follow him: he was going for counseling. He told me: "We will stay for 3 months". I stayed there for three years».
And then again the young people, to whom they can dispense advice and no longer a slap in the face to shake them. After all, Stefano Brandi was also an excited little boy: «I became Chef de partie at the age of 24 under chef Brambilla. I was in Santa Margherita Ligure and took care of the second courses. I told myself and the chef that I could do it. The night before my first time, I couldn't sleep. How did it go? Well. I was ready because over the years I had learned everything, I had been in every department, appetizers, first and second courses. What would I recommend to young people? To travel, to start from the bottom. Understanding how important preparation, accuracy, organization are. A big kitchen will teach you how to live first and then how to cook. It lets you understand how much the dishwasher counts. For us, it was fundamental within the system: it is a figure of decisive importance. You know, then, what an Aboyer is? It is what dictates the times, reminds us of the orders, speeds up, and slows down the preparation of certain dishes and certain tables. Forget about MasterChef. Those programs are useful only to those who need to advertise themselves. Good for them and good at it. Go out, learn, start from the bottom, experience, and then keep updating. There are no secrets. There is nothing to invent in the kitchen. Know how to blend, be simple, start with sauces, tomato-based sauces, and béchamel. But above all go out, learn to be responsible, serious and don't be afraid to say what you think, ask employers for the tools to work well. Because only in this way can you stand out».
Commenti
Commenta qui .....
This post is also available in: Italiano (Italian)
Tags :
Chef
Hotel