HOW TO RESPOND TO NEGATIVE REVIEWS
Responding to negative reviews (and not only) is essential to improve web reputation and consequently word of mouth on the internet. Only this way you can increase your customers
Reputation is the engine of commerce. It has always been like this, since the Roman empire (in Pompeii, on the walls, there are still advertisements or offensive graffiti inviting to go or not to a business).
Word of mouth starts from reputation. In a circular movement, positive reputation begins, and word of mouth creates and recreates the reputation of the place.
In this article, we will give you some tips to better take care of your reputation on the web by responding to the reviews, especially those that are itchier: the negative ones. The latter is a tool capable of carrying a considerable number of potential customers towards your business. A single review platform, nowadays, moves something like 200 million dollars (for a turnover of 546 billion dollars, 10% of the total). A single platform!
However, let's proceed step by step …
What is the web reputation?
The term web reputation refers to what is said about your activity on the internet. It is a collection of the feelings that your customers feel towards the business and your way of communicating. In short, it is the reputation that you have created on the net. Since you are online, anyone can know what people say and think of you: the better the image and the reputation, the higher the possibility of attracting customers.
The principal means of online reputation are search engines such as Google, social networks and review platforms. Just the latter are the most used tools by your customers to describe you to other possible clients. As with the old word of mouth, the best advertising is the one made by your customers.
Does the old word of mouth no longer work?
As mentioned, word of mouth is still the best form of advertising. Unfortunately, however, its shape has completely changed. How many opportunities are there to attract customers using flyers, spots on local radio and TV compared to advertising on the Internet? Much less. Above all young people and adults from 18 to 50 years use only the internet to find a business.
Some data?
• 67% of possible customers always use the internet to search for info on a business that do not know *
• Of these, 90% look for the business ONLY and exclusively on the internet *
Finally, the internet can break down pre-established opinions. An example: I already know a place, and I did not enjoy my last visit. I go on the internet and read positive reviews, which make me notice aspects that I had not considered before: it turns out that my idea changes and, in contrast with the old word of mouth from the bar, I can give a second chance to it. On the other hand, the final judgments are flattened, raising the client's expectations for you.
Improve your web reputation = meet the expectations
It is necessary to take care of and enhance the reputation on the web for improving word of mouth. To do this, you need to learn how to meet the expectations of your customers. A negative or positive review, in fact, comes from meeting or not your customer expectations. It is good, therefore, being able to address customer needs. How does a customer create his own expectations? Mainly with your website, review platforms and social media. It is therefore fundamental to take care of them. How can you meet their expectations? We are going to analyze it in the next point …
Meet expectations: know your reviewer!
To be able to satisfy a client (who will then be a more or less satisfied reviewer) it is essential to know him. How can you know your client? Simple: you should do it in advance. In fact, every restaurant has a target audience and it will be essential to offer those services and dishes that will be more suitable for them. Also, knowing the client-reviewer will be useful when you're going to create any kind of advertising: do not create expectations that can not be met (e.g., do not offer a full dinner for € 20 if you know you can not hold it qualitatively). That said, it's also important to understand why a customer reviews …
Why does a customer review?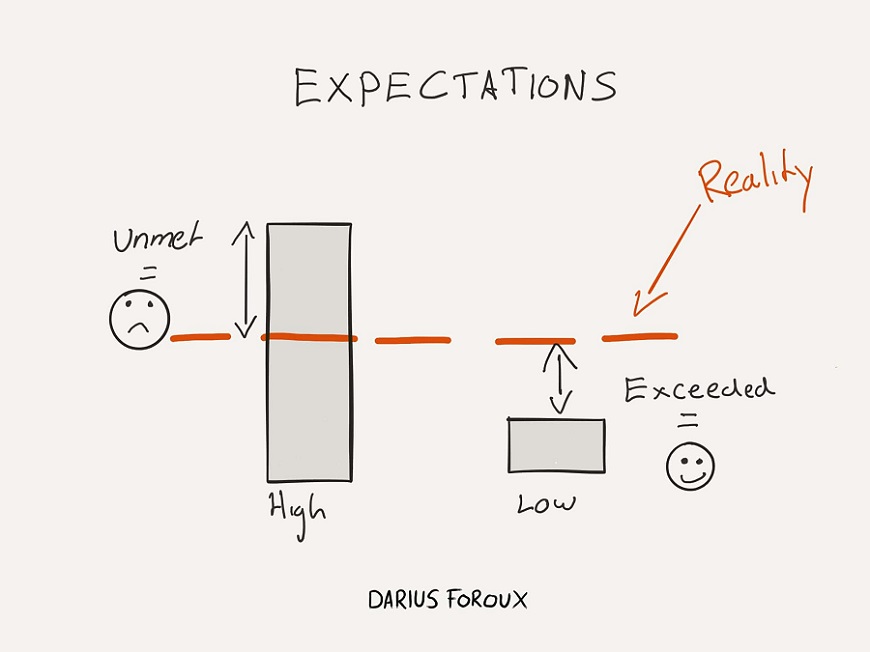 A customer reviews to take back an emotion and a memory. So, know that the desire to reward the restaurant or to take revenge on it after a negative experience is not the main reason that triggers the review. Consequently, focus on everything you can do to positively influence the experience and leave out what you can not control.
Web reputation: how important is it to respond to reviews?
• 85% of users believe that a careful response to a review improves their impression on the business **
• 65% say they are more inclined to choose a restaurant that responds to reviews than others that do not reply to reviewers **
Also, how much does it count to respond to reviews considering the average rating?
On a scale of 1 to 5,
• If a manager never responds to reviews, the average rating he/she gets is 3.91
• If he/she replies between 5% to 40% of the reviews the restaurant receives, then the average rises to 4.02
• If the manager responds between 40% and 75% of the time, the average is 4.06
• If, on the other hand, the response rate is higher than 75%, the average is 4.21 **
When to respond to reviews?
Many only respond to negative reviews. Wrong! It is also important to respond to the positive ones, as it will make you look attentive and not snooty at all towards customers. Responding only to negative reviews, however, will make you always seem defensive.
Take a test: go to the platform forums and look for "Feedback to reviews." You will find many customers-reviewers not happy about the answers (or by the lack of answers to positive reviews) of the managers. Some, then, put negative marks on the business only for the answers to the reviews that read on the web pages. Here is an example, taken from a platform:
RATING 1 out of 5
The answers are shameful
Well, for our experience the pizza is excellent, even the meat, fast service and sympathy. However, the responses to the owner's online criticism are excessively rude. Who works with the public should avoid these sharp responses, so on principle I say no, I will not come back. "
How to respond to a review
1. Respond within 24 hours
Show yourself careful! Do not wait too much. You will make a good impression and take advantage of the recent memory of the event.
2. Be kind and professional
It does not matter that the one you are answering is the worst review you have ever received: always show yourself kind and professional. Professionalism always rewards and will give you a strategic advantage, since none of the reviewers is professional in using the review-tool and in expressing themselves: the reader will immediately understand where to stand if you respond with class to an offense. Watch out for the use of the term "READER": we anticipate here the central issue of why you must respond and do it kindly: YOU DO NOT RESPOND ONLY TO THE REVIEW, BUT TO THE READER THAT COULD BE YOUR NEXT CUSTOMER!
3. Be brief and concise
Remember: nobody reads exaggerated papyrus. People usually stop first, also because readers have so many reviews and answers to get an idea of you. As a result, they will always choose the shorter answers you have given to get to know each other.
4. Customize the answers
Do not always use the same formulas to answer and thank, but always personalize it.
5. Respond to the topic
Beware of the topics you treat! When you respond to a critic try to answer only to that one, without raising other issues that might not have been noticed.
6. Do not use UPPERCASES and "!!!!!" or "!?!?!?"
Writing in uppercase is equivalent to screaming. It will make you look paesant, and a person who wants to impose without the reasons. For the same reason avoid series of exclamation points. In fact, use them only to thank if possible.
7. Write the name of the restaurant in the answer if …
Always write the name of your restaurant under a positive review. Why? Because the restaurant can be found by a possible customer who is searching for it on Google and it is better if it is associated with something positive. On the contrary, avoid writing it under a negative review.
8. Do not use sentences like "What this person is saying is false"
Do not call somebody a liar. Why? Simple: in all major platforms it is not proved that the reviewer is lying or not, and you can not know if he/she was in your business for real. You may know it, but the point is always the same: YOU ARE MAINLY TALKING WITH THE READERS: YOU ARE SELLING!
Here is an illuminating example:
RATING 1 OUT OF 5
Arrived with a scarf and exit without a scarf
I'm from Cesena, and so I happened to stop in this rather noisy place with a limited choice of cocktails. The last time I went with friends, somebody stole my scarf and the staff had assured me of knowing who accidentally took it and that they would call me. Obviously no one has ever contacted me, they are not to blame, and after all, it's just a scarf … however, I do not think I'll be back; customer care must remain the most important thing.
IMMEDIATELY ABOVE, THERE WAS ANOTHER REVIEW:
RATING 5 OUT OF 5
Arrived without a scarf and exit with a scarf
I'm from Cesena, and so I happened to stop in this rather quiet place with an extraordinary gin and tonic list. The last time I went with friends, I was given a scarf, and the staff was very careful to remember me to pick it up on my departure. They were really thoughtful; it might just be a scarf but what a lovely thought… I think I will come back frequently; my throat will never be in danger again!
What do you notice? So, it's almost sure that the second review is a mockery of the first one. The paradox, then, is that the second one is not only false, probably, but it is also the one that would make you look bad. Therefore, it is even more important to respond to this review than to the other.
Do we want to try? Here is an example of a response to the negative review:
Thanks for the compliments on business and menu. Your case is curious and speculate, even in language, the previous message. Unfortunately, it suggests that the scarf was owned by the client who reviewed us a few days ago. If so it is very serious, and our staff would be responsible. We, therefore, invite you to bring it back, so we will be able to return it to the legitimate owner. Finally, let us replace it with one that might suits you better. Thank you for the report and the compliments, we invite you to help us to repair our mistake.
Now, this type of answer points out another critical question: YOU DO NOT NEED TO FORCE. Nicely, point out what you find unfair (the possibility that it is a fake).
9. Take advantage of user-generated contents
User Generated Content (UGC) is a great way to advertise yourself. The reviews and your best answers can be turned on your social networks, along with all the content created by the customers and in which the latter speaks well of you. It is the old word of mouth transposed on the web.
In conclusion…
When responding to reviews (especially negative ones) always remind two crucial points:
REMAIN CALM! Take your time before writing and try not to respond while you are still angry: you would risk wrong answers that could bounce on the web for months (on the internet there is no "right to be forgotten")
ALWAYS KEEP IN MIND THAT YOU ADDRESS TO THE READER! Responding and keeping calm even when you think you have suffered an unjustified attack is fundamental, above all because you will prove to be professional. You are selling your business, and its image also derives from the professionalism you show you have in every area. Indeed, the less pretentious your business is, and the more your professionalism will be appreciated.
We will come back to the topic in the future, also because it is our theme. FoodiesTrip was born to fight this fake system that forces us to respond to undeserved accusations, often focusing on issues that have nothing to do with food.
* Trade Lab data
** Phocuswright data
Commenti
Commenta qui .....
This post is also available in: Italiano (Italian)
Tags :
Owner
Top